Stamp produtions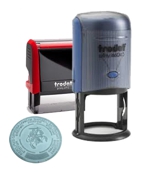 Procedure of ordering circular
stamps (Lt)
STAMP PRODUCTIONS
The cheapest ones today:
Personal stamp- 6,90 Eur (GRM 4910, 25 x 9 mm)
Circular stamp of a company- 13,20 Eur (GRM 4930 Hummer, d 29 mm)
Stamp with the company requisites- 9,20 Eur (GRM 4912, 46 x17 mm)
A discount is at the moment:
From May 15, 2019 all month:
All non-circular stamps (except for micropore and dater stamps) get 15% off.
All circular stamps, made the day after the ordering, get 10% off.
Micropore stamps get 10% off.
Pens with stamps ( except GOLDRING pens) get 10% off
The discount does not apply to stamps with a signature or a drawing, stamps with interchangeable date and pens GOLDRING.
Rubber stamps are made with laser-engraving technology, which allows to accurately make small and intricate details. Stamps can be made in 10 min.- 1 h., there will be no extra charge for quick production.
Prices:
PRICE IS SPECIFIED FOR COMPLETELY COMPLETED STAMPS
Stamp
Stamp Nr.
Stamp size, mm
Price
with VAT
Price
with discount

CIRCULAR STAMPS FOR COMPANIES

GRM stamps

46030
Hummer
○ 29
14,67 €
13,20 €
46040
Hummer
○ 39
17,56 €
15,80 €

TRODAT stamps

46025
○ 24
17,10 €
15,39 €
4630
○ 29
19,60 €
17,64 €
4642
○ 41
22,40 €
20,16 €
N9430
○ 29
18,00 €
16,20 €

Metals stamps with button

30
○ 29
22,00 €
19,80 €
40
○ 39
24,60 €
22,14 €

INFORMATION STAMPS

GRM stamps

4910
25 x 9
8,12 €
6,90 €
4911
37 x 13
8,94 €
7,60 €
4912
46 x 17
10,82 €
9,20 €
4913
58 x 22
12,59 €
10,70 €
4929
49 x 29
14,82 €
12,60 €

it's possible to compactively close the stamp
lid
4911
-
0,70 €
0,60 €
lid
4912
-
0,80 €
0,68 €
lid
4913
-
0,85 €
0,72 €
POCKET
20
40 x 16
-
-
POCKET
30
46 x 21
12,80 €
10,88 €

TRAXX stamps

9010
25 x 9
8,47 €
7,20 €
9011
38 x 14
9,41 €
8,00 €
9012
47 x 18
11,53 €
9,80 €
9013
58 x 22
14,47 €
12,30 €

TRODAT stamps

4910 E
without lid
25 x 9
10,80 €
9,18 €
4910 E
with lid
25 x 9
11,15 €
9,48 €
4911 E
without lid
37 x 13
11,80 €
10,03 €
4911 E
with lid
37 x 13
12,35 €
10,50 €
4912 E
without lid
46 x 17
13,80 €
11,73 €
4912 E
with lid
46 x 17
14,40 €
12,24 €
4913 E
without lid
57 x 21
17,35 €
14,75 €
4913 E
with lid
57 x 21
17,95 €
15,26 €
4915 E
without lid
69 x 24
21,60 €
18,36 €
4921
11 x 11
10,60 €
9,01 €
4922
19 x 19
13,00 €
11,05 €
4923
29 x 29
16,80 €
14,28 €
4924
39 x 39
22,20 €
18,87 €
4925
82 x 25
24,80 €
21,08 €
4926
73 x 36
28,20 €
23,97 €
4927
59 x 39
26,20 €
22,27 €
4928
59 x 32
22,55 €
19,17 €
4929
49 x29
20,80 €
17,68 €
N9411
37 x 13
12,20 €
10,37 €
N9412
46 x 17
13,80 €
11,73 €
N9430
29 x 29
18,00 €
15,30 €

IMPRINT stamps

11
38 x 14
10,20 €
8,67 €
12
47 x 18
12,60 €
10,71 €
13
58 x 22
15,60 €
13,26 €
TRODAT dater stamps
4810
height of numbers

3

,8

mm
format:
2011-12-31
or
31-12-2011
4,80 €
-
TRODAT dater stamps with additional inscription
4813
inscription at the left side
25 x 8 mm
height of numbers

3

,8

mm
format:
2011-12-31
or
31-12-2011
14,40 €
-
4850
inscription at the top
24 x 4 mm
height of numbers

3

,8

mm
format:
2011-12-31
or
31-12-2011
12,80 €
-

HERI RIGONI / SWITCH series pens with stamp

50620
34 x 6
12,74 €
11,47 €
GOLDRING pens with stamps

3021...

3041...
2 lines of text

4 lines of text
34,00 €

41,00 €
-

MICROPORE STAMPS

R32
○ 29
24,00 €
21,60 €
R42
○ 39
26,00 €
23,40 €
DF35
○ 32
17,00 €
15,30 €
DF42
○ 39
23,00 €
20,70 €
DF1331
13 x 31
9,00 €
8,10 €
DF1340
13 x 40
10,00 €
9,00 €
DF1755
17 x 55
12,00 €
10,80 €
DF4378
43 x 78
-
-
DF5391
53 x 91
30,00 €
27,00 €
DF67103
67 x 103
46,00 €
41,40 €

inks for stamps

blue
black
15 ml
1,50 €
-
blue
purple
black
red
green
28 ml
3,40 €
-
brown
light blue
28 ml
4,60 €
-

Ink for micropore stamps

blue
light blue
green
purple
black
red
orange
brown
10 ml
4,80 €
-

Ink cassette refill (except brown ink)

1,00 €
-
We can offer stamps in other sizes and types (dater stamps, stamps with numerators). Also you can buy stamp ink cassettes. All of the asortiments can be seen in our location. "Trodat" housings are made in red, grey, blue, greenish and peach colours. Press colours: black, green, blue, red, purple.
Also you can choose a pen, its model and colour, that suits your preference.
We accept orders for "JustRite" embossing imprinted stamps. Prices: d41 mm- 59,00 €